Wednesday, June 29th, 2011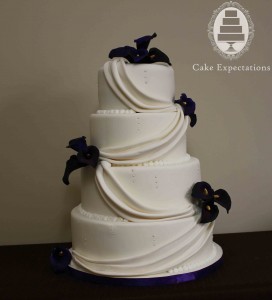 Fondant drapes are a beautiful, traditional design for wedding cakes that are made to look like folds and swags of fabric draped over or around the cake. For a modern touch, the white fondant drapes on this Calla Lily Wedding Cake were accented with clusters of dark purple sugar calla lilies. Sugar pearls on each tier finish the classic look.  The wedding reception was held at The Fairmont Royal York Hotel in downtown Toronto.
Top Tier – 6 inch round Vanilla Bean Cake with Dulce De Leche Buttercream
Middle and Base Tiers – 8, 10, and 12 inch round Styrofoam dummies.
This 4 Tier Calla Lily Wedding Cake provided 10 servings.