Friday, July 1st, 2011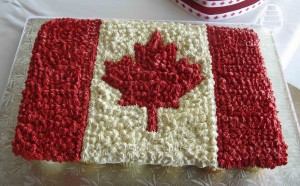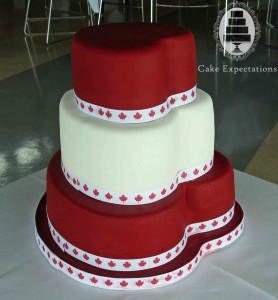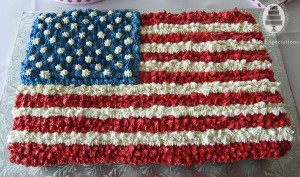 and Happy Fourth of July!
National pride was the theme of this wedding for a Canadian bride and her American groom. Both the Canadian and US flags are tear-away cupcake cakes and the 3 tier centerpiece is a heart-shaped Canada Wedding Cake that was accented with patriotic red and white maple leaf ribbon. This wedding reception was held at the Port Whitby Marina which has a beautiful view of Whitby Harbour.
The pull-apart Canadian Flag Cupcake Cake was made from 24 Lemon Cupcakes with a Strawberry Buttercream center. The US Flag Cupcake Cake was made from 24 Chocolate Cupcakes with a Caramel Buttercream center. Both cupcake cakes are topped with coloured Vanilla Buttercream.
Top Tier – 6 inch heart White Chocolate Cake with Chocolate Hazelnut Buttercream
Middle Tier – 8 inch heart Red Velvet with Cream Cheese Filling
Base Tier – 10 inch heart Styrofoam dummy
This 3 Tier Canada Wedding Cake and the flag cupcake cakes provided 52 servings.