Thursday, June 30th, 2011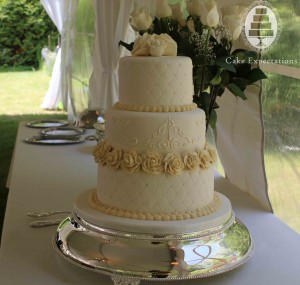 For her outdoor summer wedding by the shores of Lake Ontario in Whitby, this bride wanted an elegant cake design with lots of ivory roses to match her wedding colours and flowers. This Ivory Rose Wedding Cake was covered with ivory fondant and had a quilted design on the top and bottom tiers. The design on the middle tier was piped with royal icing and painted with liquid pearl. The darker ivory piping on the base of the top and bottom tier and the row of roses on the middle tier were done in buttercream. Ivory sugar roses on top and our round silver cake stand completed the look.
All 3 Tiers (6, 8 and 10 inch round cake combination) were Vanilla Bean Cake with Vanilla Buttercream and provided 72 servings.