Monday, July 4th, 2011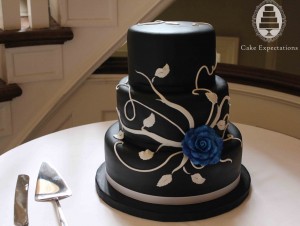 The couple who ordered this Black and White Rose Wedding Cake wanted a design that was clean and elegant with a modern twist that matched their wedding colours (black, white and blue). Their wedding reception was held at the McLean House at the Estates of Sunnybrook in Toronto.
Top Tier – 6 inch round Hazelnut Cake with Dulche De Leche Buttercream
Middle Tier – 8 inch round Chocolate Cake with Kahlua Buttercream
Base Tier – 10 inch round White Chocolate Cake with Raspberry Buttercream
This 3 Tier Black and White Rose Wedding Cake provided 72 servings.